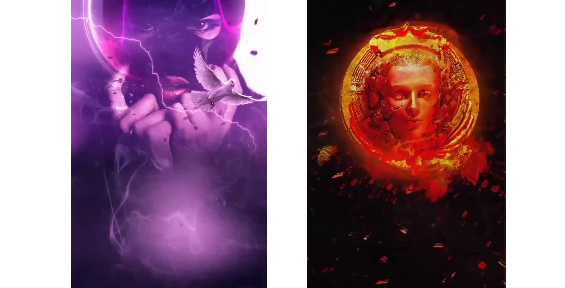 Spotify Canvas is a short looping visual that you can add to each of your Spotify tracks, allows you to engage your fans in a whole new way. It's album art in this modern digital age of streaming. But unlike your regular static cover artwork, Spotify canvas videos can be customized for each song. Your Canvas also reaches fans outside of Spotify. When you or a fan shares a music from the Spotify app to Instagram, the Canvas will play in the background, alongside track details and a link to 'Play on Spotify.' Music fans are more likely to continue streaming, share the album, add it to their playlists, save the track, or visit your personal profile if they see a Spotify Canvas.
Spotify Canvas Specifications
According to Spotify, canvas appears in a vertical format to completely fill the background of the Now Playing screen. Specifications include:
| | |
| --- | --- |
| Ratio | 9:16 |
| Height | At least 720px |
| Length | 3 secs - 8 secs |
| File Format | MP4 or JPG only |
Best Practices For Using Spotify Canvas
Once you've understood the fundamentals of creating and uploading your Canvas, follow these guidelines to make the most out of your graphics, transforming them into messages that may impress and captivate.
Choose a video footage without singing, rapping or talking. With the footage only lasting for 3-8 seconds, it cannot be synced to your track. 

Avoid intense flashing effects. 

The goal is to attract listeners and not overwhelm them. 

Always focus the action in the "safe area". 

Consider excluding the music details like the song title, or artist name as this info is already visible in the "now playing" section of the app. 

Pick the best loop options for your Spotify canvas. The Rebound is the most straightforward method for a newbie video-maker to obtain a smooth clip: It plays your footage forward before reversing it. 

Practice brand consistency by sticking with one artistic vision across your profile. 

Feel free to change your canvases whenever you feel inspired. The goal is to keep people engaged and interesting enough to keep them coming back for more.

If you are looking for Spotify Canvases for your music, take a look at our high quality, Spotify ready video template. If you are looking for something more, our premade cover artworks have Spotify ready templates and motion covers which you can purchase as an add-on to help boost your music streams.